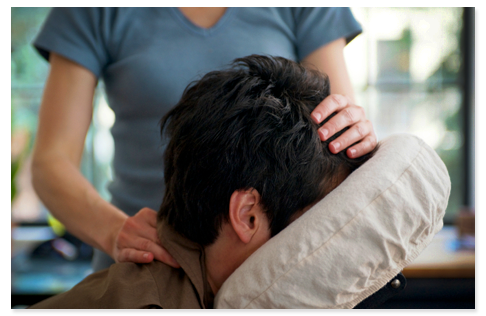 Invite Touch Companies to your next office party, exhibit promotion, trade show, hospitality suite, or offer it to your employees as an incentive. Chair massage is a seated stress reduction massage that can be performed virtually anywhere.
Many companies have found the best way to relieve pressure is to apply it.
Many companies are using chair massage to reduce stress and increase energy levels among their employees. The companies also benefit. In the form of increased productivity, lower absenteeism, and higher morale. At Touch Companies we have created a stress management program that we will bring to your office. Each massage only takes about 15 minutes (no longer than a coffee break, but much more effective). As a stress management company we can significantly enhance employee participation of your wellness program. To ensure quality service Touch Companies will staff your office with licensed/certified therapists.
For more information or to schedule a FREE demonstration.
Call or email us today!