Collagen Sublime Eye Treatment          $40
This new radiance boosting anti-aging eye contour treatment is an intense 4 step treatment specifically formulated to treat the fragile area around the the eyes. Alone or incorporated into a signature facial treatment, this rejuvenating treatment will minimize the signs of aging, visibly improve the appearance of dark circles, help decrease puffy under eye bags to reveal a more youthful hydrated look.
Classic Facial          $75
Our classic facial is customized for each client to purify and rejuvenate any skin type. Consists of cleansing, exfoliation, and extractions complimented by a relaxing massage and mask. Finished with a moisturizer and sun protection, leaving your face hydrated, refreshed and glowing with healthy radiance.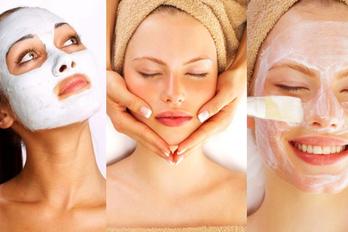 Gentlemen's Facial          $75
Tailor- made to address the specific needs of a man's skin. A deep cleansing, exfoliation, and hot towel steaming combined with anti-stress facial massage and mask to help soothe razor burns, hydrate and invigorate tired skin.

Acne Facial          $90
Results-oriented, clarifying, facial is specifically designed to purify congested or acne-prone skin. Effective deep cleansing using enzymes and antioxidants to fight redness and inflammation. This therapeutic facial will help manage and control acne while clarifying and calming troubled skin.
Firming Anti-Aging Facial          $95
Our firming facial is ideal for luminous, hydrated, firmer skin. The facial leaves the skin feeling and looking healthier with a radiant, firmer complexion – ideal for all occasions when desiring a glowing, visibly youthful appearance.
Back Facial          $65
This relaxing facial is designed to bring balance and radiance to the skin on your back, an often neglected area. This treatment will focus on cleansing, exfoliation, hot towel steaming, extractions, and masque therapy. Perfect for a special occasion or if you are having challenges on your back. [divider_padding]
Petite Facial          $45
A soothing and relaxing treatment that includes deep cleansing, exfoliation, and a hydrating mask.
Eyebrow Tint      $15
Eye Lash Tint     $20