Touch Companies offers Professional Airbrush Spray Tanning.
Smart, Safe and Sexy tanning!!!
South Seas Airbrush Spray Tan is evenly applied by a trained professional in minutes, dries instantly, is not sticky, and smells amazing.  No orange feet or hands!  Get a Noticeably Natural tan.
South Seas only uses Eco-Cert Organic Dihydroxyacetone (DHA). DHA is the active ingredient in all self tanners and was approved by the FDA for use on the body in 1977.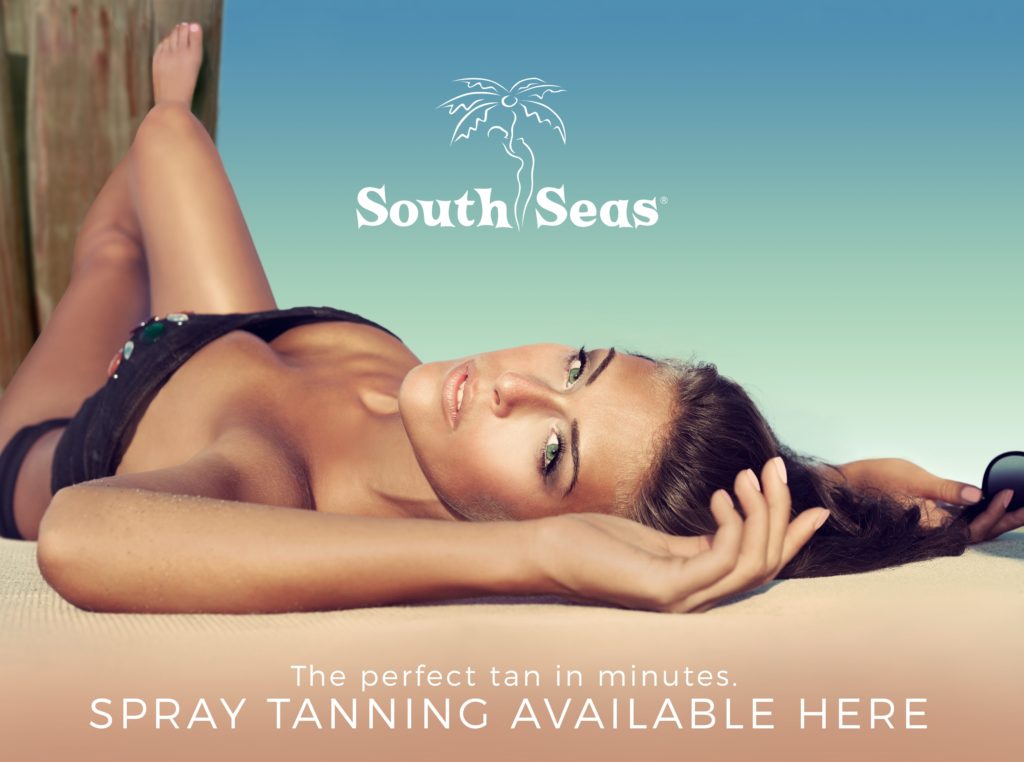 Package pricing available, Call for details!
Tahitian Tan Full Body Spray         $35
Inspired by the Natives of French Polynesia, South Seas Tahitian Tan Solution delivers a rich and robust color ideal for all skin types. The mahogany color guide provides immediate, beach-beautiful color!  This solution contains 9% DHA, is fast drying, non-sticky, cucumber-melon scent, and paraben-free.   Tahitian Tan is the most versatile solution and it provides an ideal tan for all skin types.
Lava Tan Full Body Spray         $40
South Seas Lava Tan Solution is the most sought after spray tanning solution in the world.  Inspired by the volcanic originations of French Polynesia, Lava erupts with slightly red undertones emanating a dark, rich and radiant glow. Chambering the islands' finest ingredients including Monoi de Tahiti, coconut oil and organic sugar cane, the color immediately pulls your hottest skin to the surface. This solution contains 11.5% DHA, is fast drying, non-sticky, cucumber-melon scent, and paraben-free.
All Natural Full Body Spray          $40
This solution contains 9% DHA, is unscented, 98% natural, and paraben-free. The All Natural solution does not contain alcohol and is best for those with dry skin, while still providing the same results as the Tahitian Tan.
Fiji Express Full Body Spray          $50
This solution contains 13% DHA, alcohol-free, 98% natural and paraben-free.  It has the same fabulous color as our other solutions, but with the convenience of showering within 2-3 hours.
Victory Competition Bronzing     $45-75
This exclusive Competition Spray Tan formula was created for the demanding fitness models and body builders.  Judges across the globe say it's the perfect stage color!
Legs     $20
Upper Body     $25
Face     $10
Extras
Bali Bronzer    $5
Liquid Gold Shimmer   $5
Double Dip     $5 &up
Flawless Tan Package     $95
30 minute Massage, Exfoliation Scrub, Shower and Tan.
Prep
* Any waxing/shaving should be done prior to your spray tan.
* Exfoliate with Bora Bora Body Polish, or an exfoliating product of your choice.
* It's OK and we actually recommended to apply lotion the day of your spray tan.
* Bring a dark swimsuit or undergarment(s) to your session, unless you plan on being bare-skinned.
* Wear dark loose clothing as the cosmetic bronzer may rub off.
Maintain
* After your spray tan avoid showering, swimming, or perspiring for 7-8 hours with Tahitian Tan or 2-3 hours with Fiji Express Solution.
* Use Bikini Island Body Wash while showering and apply Moorea Moisturizer daily after.
* Prolong your tan with Tahitian Tan Extender.
Ask about our Spray Tanning Parties!!!