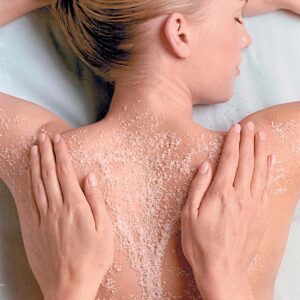 A Body Treatment session starts with exfoliating the skin. The mask and/or exfoliant used will help tone and hydrate the skin (some exfoliants may help reduce pain and inflammation). The body is wrapped up tightly to keep you warm. While resting all wrapped up, the heat helps soothe the muscles, opening the pores so toxins are flushed from the body.  Once unwrapped, moisturizer is applied on your soft and glowing skin.
Indulge your body in true hydration.                                                                                                     Wrap yourself in warmth and exfoliate your skin.
Dead Sea Salt Wrap          $90
A mixture of scented oils and dead sea salt is applied to the body, stimulating circulation, hydrating and leaving the skin satin smooth and glowing.
Aromatherapy Wrap          $75
Your therapist will wrap you in a warm blanket infused with a custom blend of essential oils, to help induce relaxation as well as calm and balance energy.
Citrus Sugar Scrub 
Body Wrap         

$90

Using a special blend of essential oils and natural sugars to exfoliate your skin and stimulate circulation, re-hydrating and leaving your skin soft and smooth. This citrus sugar body scrub has a lemon drop scent, is 100% natural, and paraben-free.
Herbology Wrap          $75
An excellent detoxifying treatment that also helps to smooth skins texture. A fleece sheet is soaked in an infusion of customized herbs. The sheet is wrapped around the body and is kept warm for 20 minutes, letting the herbs draw out impurities.
Sunrise Coffee Scrub Body Wrap          $90
Wake up with our 100% natural and paraben-free Sunrise Coffee Scrub containing a blend of premium ground coffee, Shea butter and essentials oils.  Not only will this body wrap wake you up, but the firming and tightening effects from the caffeine have been know to reduce cellulite and will leave your skin looking healthier and younger.
Derm Body Wrap          $90
Treat your body to this revolutionary service similar to traditional microderm treatments, but without the expense. This treatment will reduce discoloration and diminish the appearance of fine lines, wrinkles and rough spots. This product is Paraben free and will leave the skin soft.
Jindilli Lime Blossom Scrub          $90
Using sustainably harvested cane sugar in a macadamia crème base, the body is exfoliated from tip to toe. The scrub not only cleanses and softens, but also stimulates blood flow to the surface of the skin. This heavenly scented exfoliating treatment stimulates new cell growth and is an excellent remedy for reducing stress.  After the exfoliation, a full body application of Jindilli's Body Nourish crème leaves the skin soft and supple.  This treatment can be performed on specific areas as well as the whole body.   Great for all skin types.  Not recommended for those with nut allergies.